Recordings
All recordings are now available from this web site and main digital distribution sites.
Vivaldi, etc! - Release Date: March 29th 2019
"Vivaldi, etc!" is the sixth CD on the JCW Recordings label. The main works are Vivaldi's Concerto op.3 no.9 and "Prelude, Fugue and Allegro" by JS Bach: there are also other pieces by Bach, a beautiful Sarabande by his contemporary S.L. Weiss and the Irish harpist O'Carolan's "Farewell to Music".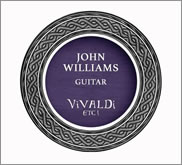 Available from the
iTunes store in June 2019
The Flower of Cities - Release Date: February 2nd 2018
On The Wing - Release Date: April 7th 2017
"On The Wing" is John Williams' new solo recording, featuring five of his latest compositions, which include the highly regarded "Homage to Rafael", based on the beautiful 16th century song "Toda mi Vida". Also included are his arrangement of the popular Neapolitan song "Catarí, Catarí" and other pieces by Bach and Couperin.
Many years ago in the country south of Melbourne, Australia, I heard a honeyeater sing a song. The tune was memorable because it had a very nice, simple rhythm with very precise musical notes: it was exactly as I put it at the beginning of the first of the four From a Bird pieces and it seemed to ask for a little development.

Hello Francis, which is a homage to a dear friend and great African musician, Francis Bebey from Cameroon: in this I use one of his favourite rhythms, the makossa. The remainder of the titles are simply my effort to call the pieces something less boring than just numbers - except of course the Irish tunes, which are all traditional and well known.